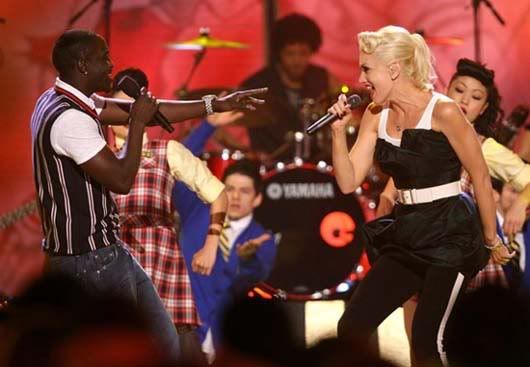 A few weeks ago Akon simulated 'statutory rape' with a 15 yr old onstage in Trinidad by pretending whoever was the best dancer with him would win a trip to Africa.
There was no Africa trip and Akon is just a dirty 'ol perv.
And the 15 yr old turned out to be a pastor's daughter, of course.
Well now Akon is opening for Gwen Stefani on tour…and because of this little indiscretion, Verizon has dropped Gwen's whole deal. All her tour supported websites are down.
Verizon spokesperson Jim Gerace has claimed that the company made a huge err in judgment by establishing a partnership with Akon. Furthermore, Gerace has asserted that all materials promoting sponsorship of the Gwen Stefani/ Akon tour will soon be destroyed. Akon ring tones have also been removed from the company's website.
"This week the partnership ended. We have music services on our cell phone service and we were promoting him as one of the artists. The other part of the sponsorship was the tour…We are no longer sponsoring the tour."
Source: WLC
Related Posts
No related posts