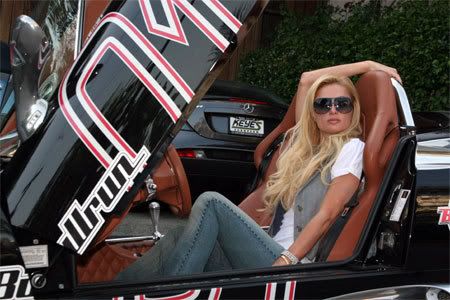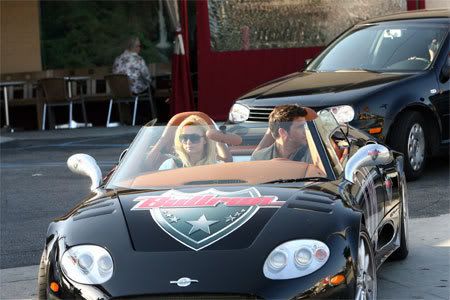 Paris was seen earlier today driving a brand spanking new Spyker C8 Spyder.  In proof that life can be very unfair at times, Parisite was given the Spyder as a gift by Bullrun.  The DUI loving Hilton will be participating in the Bullrun's 2007 invite only, week long, cross country road race which starts in Montreal, Quebec, Canada on May 11th with the finish line in Key West. 
The Bullrun website describes the race as:
A legendary annual cross country live car rally over a week involving 100 cars, celebrities and a party in every city every night. It is the most glamorous and high profile "luxury lifestyle" automotive rally. Each year, a hundred of the world's premier super-cars embark on the beginning of an invite-only epic eight-day rolling party across the USA, bringing together a celebrity strewn cast of characters and 'petrosexuals' for an unforgettable adventure, where, the only obligatory goals are to party, drive and enjoy… Fueled by an impressive schedule of public and private events at the finest venues and hotels and in the most exciting cities in America, 'Bullrunners' make their way from one checkpoint to the next, learning their destinations daily, rocking to a close each night in the party capitals of America. This real live event is filmed for 52 countries outside the USA.
Related Posts
Jockeys – Chantal vs. Mike
Sex Tapes Get You Into Country Clubs