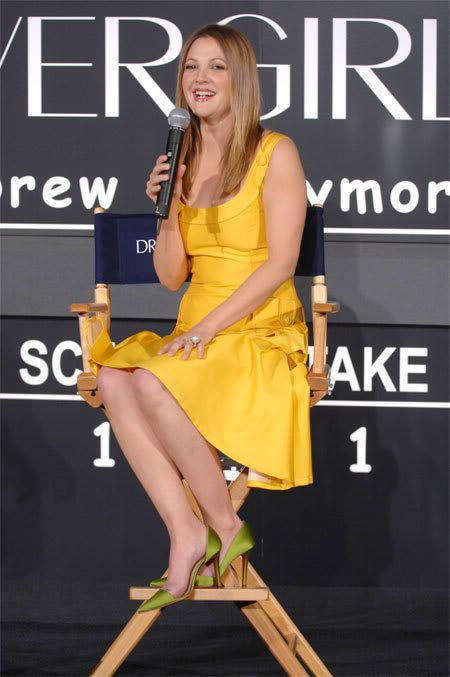 One of my favourite ladies in Hollywood, the very lovable Drew Barrymore has becomed the newest member of the covergirl team.  The announcement was made earlier today at the Four Seasons in Beverly Hills.  While I wasn't 100%gone on the canary yellow Carolina Herrera dress that Drew wore for the annoucement, I am excited to see what kind of ad Drew will feature in.  Drew who owns her own production company was co-director for the ad campaign she will be featuring in down to choosing  nude coloured dress instead of Cover Girls usually bright and colourful palette
"I leave the makeup and product up to them, that's their expertise," she told The Associated Press in a phone interview from the set. "What I want to do is honour the tradition of CoverGirl but hopefully bring myself and my personality into it, as well as some edgy fashion-forward thinking and positivity to it." "I like to be involved in every aspect. I'm a control freak but I keep those issues at bay when I work with other people," she said with a laughs.  [Drew] said she loved the chance to play with makeup and try modelling. "What girl doesn't fantasize about it?" she said.
As to why Covergirl chose Barrymore,here's some grade A marketing bullshit:
"We partnered with Drew because she emulates the iconic image of CoverGirl with her fresh, natural beauty and energetic yet authentic spirit," said Esi Eggleston Bracey, vice president and general manager of CoverGirl Cosmetics North America.
Related Posts
Drew Barrymore – Green Bikini
Drew and Hugh Premiere Musics and Lyrics