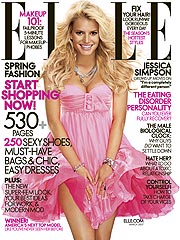 Jessica Simpson says seeing Nick with another woman hurt her.
"Oh, it hurt me," Simpson tells Elle Magazine in its March issue.
After their split Nick was photographed with Laguna Beach star Kristin Cavallari, and now seems to be very happy with MTV star Vanessa Minnillo
Especially as she tells about her marriage to Nick, and how she still had hope everything was going to be fine, untill a couple of days before they made their split public. So what changed that…
"I watched The Notebook on a plane home to Waco, to be with my grandparents, she says. "It's a great love story."
The movie itself, she says, was "not what sealed it. I just figured out the statement. It was about that moment of desperation. I needed to breathe."
She does say she's still in touch with him. "He's so much a part of my life, how could I not be? Any guy who's going to be with me from this day forward has to understand that  
So what does her new beau think of that.
Well she won't confirm her relationship with Mayer or anyone for that matter, but a glimpse of her inbox shows the Elle Magazine reporter, a block of e-mails from mr. Mayer himself. With one of the e-mails having the following subject line: "Texas girl."
She does smile when asked if she's in love right now.   Her answer…I didn't say yes.
Well I'm hearing a yes coming..!! 
Related Posts
The secret fears of Jessica Alba
No Prizes For Guessing Who Jessica Biel Is Hooking Up With