International superstar Mariah Carey threatens legal action against a porn star-politician who wants to trademark a name similar to the songstress. Not only do Mariah Carey and the porn actress have similar names, the adult performer bares a slight resemblance to singer. Ms. Carey (Mariah) does not want her fans to be confused by the two artists. Since the early 1990's, the pop diva has successfully registered numerous trademarks.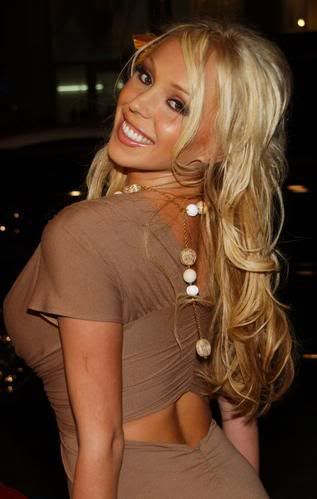 Mary Cook, 26, who uses Mary Carey as her stage name has used the name, Mary Carey, since 2002. In 2003, the adult star ran for California governor against Arnold Schwartznegger and came in 10th out of 135 candidates. The adult performer attempted to run in 2006 but back out due to a family crisis. If the pop star files a lawsuit, Mary Carey will not be intimidated.
          "I'm ready to battle Mariah over this because I've been Mary Carey for a long time. She told Reuters. "It's kind of funny because I'm a porn star and I've been being myself for a long time. I think she's being silly."
          Mariah Carey's attorney, Robert Becker, sent Mary Carey's representative a letter in October and threatened legal action if Mary Carey proceeded with the trademark registration.
"MARY CAREY and MARIAH CAREY share the identical surname and have first names that are very similar." Mariah Carey's attorney Robert Becker wrote to Mary Carey's representative. When Becker asked about the porn star seeking the trademark for audio and video recordings, he stated. "Confusion between your client and her Mary Carey trademark and our client Mariah Carey trademark is therefore likely."
Becker also ordered Mary Carey to use her name for "adult entertainment purposes" only. In order to avoid further legal action, she is not to sing or perform with that name.
            "This is a technical procedure to stop a trademark registration. Mariah Carey has no affiliation with Mary Carey." Mariah Carey's spokeswoman, Leslie Sloane-Zelnik said.
          Mariah Carey, 36, was listed in Billboard magazine's bestselling artist in the 1990's. Since her 2005 release of Emancipation of Mimi, Mariah has recently enjoyed a huge comeback after going through personal and professional setbacks. She won a Grammy for the mega hit, "We Belong Together". Ms. Carey is also up for two awards for the upcoming 2007 Grammy Awards.
Related Posts
Mariah Carey at Macy's Herald Square for a personal appearance
Meet Mariah Carey at Macys at the Glendale Galleria